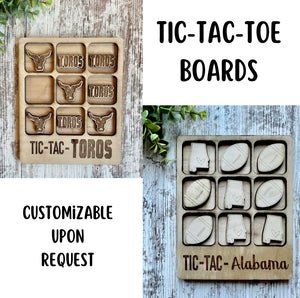 Get ready for some serious game time fun with these Tic Tac Toe boards! It's the perfect way to make a few moments of downtime more thrilling or entertain the littles when necessary. 

Each game will include 5 of each design playing pieces. 

Measurements approximately : Length 5.8 inches, Width 7.2 inches 
As wood grains vary please allow for minor differences and imperfections. 
Customized sizes are available upon request. 
Custom themes are also available upon request
Message us on Facebook or send an email to freedomcoastal@gmail.com for any inquiries 
Current processing time is 1-2 business days