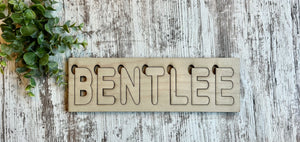 Personalize your playtime with our custom-crafted Name Puzzles! These wooden puzzles are cut to spell out your special someone's name, perfect for captivating kids and cozy family playtime.
Puzzles are made from maple wood. 
Length of puzzle will vary depending on how many letters in the child's name. 


All puzzles will come in raw wood form with the ability to be painted at home. Paint supplies not included.